Full Truckload
Your local, regional and national full truckload solution for Hot Shot Freight
When you're seeking only the best in Full Truckload services for Hot Shot Freight then HotShotTrucking.com is the winning solution. We provide leading Full Truckload services with unrivaled capabilities and specialize in servicing accounts related to crude oil, natural gas, oil drilling, fracking and refinery operations. In addition our expansive network has local and national hot shot freight solutions for the construction and automotive sectors. You'll receive the benefits that come with our immense experience, proven systems and complete far-ranging transportation options which allow us to do this quickly and effectively underlined by our ongoing commitment to professionalism and excellence.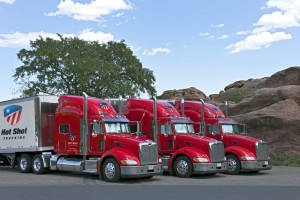 There's no reason that finding a completely reliable Truckload Carrier should be an inconvenience. Here at HotShotTrucking.com our team will happily assist you with routing and scheduling, load planning and optimization – managing the entire process with you all the way through the final safe delivery of your hot shot freight. It is our commitment to service and accuracy that has helped numerous oil, gas and other energy operations excel while positioning HotShotTrucking.com as an industry leading Truckload Carrier throughout North America.
We know the importance of being dependable with your hot shot freight and at HotShotTrucking.com we take deep pride in being the national Truckload Brokerage you can always count on. It's our blend of experience and our daily commitment to your success that helps shape our business plan to bring you the maximum results. Our team work with a network of thousands of trained drivers, operating dry vans, flatbed trucks, tractor trailers and other urgent freight solutions to accommodate everything from dedicated freight to industrial parts and equipment. Our expertise rests in the same fields where you work which is why you can depend on Hot Shot Trucking to become your premier choice as a truckload broker.
We look forward to explaining more about our full range of hot shot freight delivery options. Please give us a call today at 800-713-1000 or fill out our quick quote form.