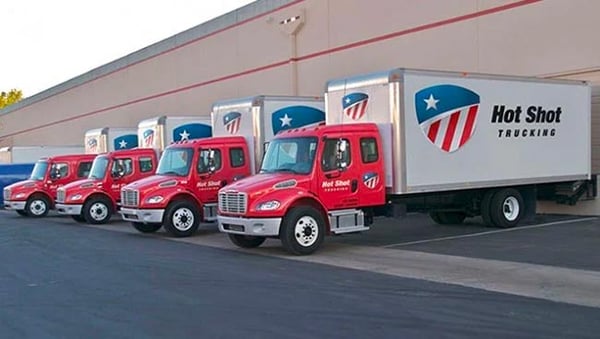 Originally used to describe pickups and other small trucks waiting to rush crucial parts to commercial oil rigs during the 1970's, today the term hot shot usually refers to either the truck, the freight, or both. Typically, a Class 3, 4, or 5 truck is used in combination with a variety of trailers to run for-hire freight for a single customer exclusively, generally not exceeding 58,000 pounds.
What exactly qualifies as a hot shot load? It's anything that fits in a Sprinter van, small box truck, large straight truck, or a full truckload. This includes highly valuable time-critical freight that is absolutely necessary to keeping production facilities or equipment up and running. Three key benefits of hot shot truck loads include speed, exclusivity, and cost.
Speed
Hot shot truckers specialize in time-sensitive loads. They are often used in situations where failure to deliver a time-sensitive item within a specific window will cause significant - and costly, production delays. Hotshot trucking is often confused with expedited shipping, but the two are distinct freight services. Hot shot trucking is one method of shipping an expedited load, and often hot shot loads are similar to expedited loads. Ultimately, the key factor here is that hot shot trucking is as fast as you need it to be.
Hot shot trucking (AKA hotshot trucking) commonly transports a single load, or a set of smaller loads that can be handled in vehicles as small as a Sprinter van. Full-sized semi-trucks are unable to compete with the flexibility of hot shot trucks, due to their size and slower speeds. That's the niche where hot shot trucking works perfectly. They travel point-to-point within a specific local are, regional or nationwide, although there are certainly exceptions.
Exclusivity
The urgency of true hot shot trucking limits it to a single customer. Your shipment won't have to wait for other freight to be picked up. There is no cross-decking, freight swapping, or hub-and-spoke transfers to delay or potentially damage your shipment. Since space on larger trucks is often filled with multiple shipments, this again is where hot shot trucking makes sense. Your dedicated HotShotTrucking.com expeditor will work with you to determine whether this option makes sense for your freight.
Cost
One of the biggest advantages of using hot shot trucking services is cost. Space in any truck is extremely valuable. Since full-sized trucks are more expensive to run, they will charge more for overhead. Smaller hot shot trucks generally cost less because they have lower operating expenses. Hot shot truckers can also take much smaller loads. If you have a very small shipment, a larger vehicle does not make economic sense. If it's small enough to ship in a Sprinter van or box truck, hot shot trucking can be an extremely cost-effective approach.