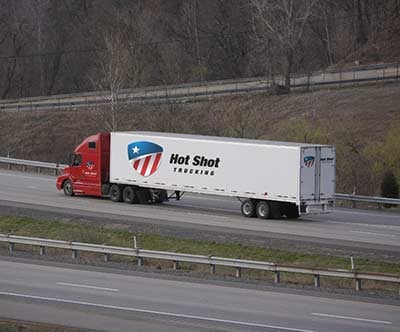 Hot Shot Brokers for Urgent Freight Delivery.
Hot Shot Trucking provides all of the services expected from a comprehensive, versatile and dependable Truckload Brokerage. With this in place we are an invaluable ally to oil refineries, oil sands, pipelines and fracking operations across the country. We're equally adept with being Hot Shot Brokers for service needs for urgent delivery within the automotive and construction sectors. With our extensive service offerings, vast experience and proven systems, there isn't a hot shot load that we can't handle. Best of all we're working daily in your industry and only handle hot shot trucking.
We bring you benefits with every contract due to our unique capabilities that result from our network of thousands of trained drivers, operating everything from dry vans to straight trucks, tractor trailers and flatbeds. We're fully equipped to deliver wide loads, mega size loads, urgent freight and over-dimensional loads with the speed and dependability to be expected of a leading Truckload Brokerage. In addition our coverage spans the entire nation and Canada, whether your urgent freight is heading 150 miles up the highway or clear across the nation we're ready to help provide your hot shot services.