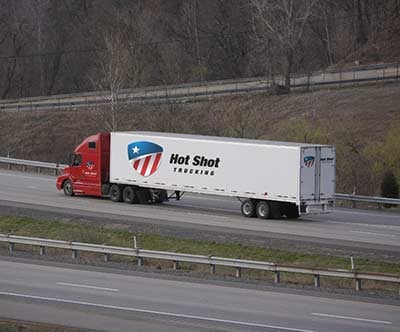 Hot Shot Brokers for Urgent Freight Delivery.
Hot Shot Trucking provides all of the services expected from a comprehensive, versatile and dependable Truckload Brokerage. With this in place we are an invaluable ally to oil refineries, oil sands, pipelines and fracking operations across the country. We're equally adept with being Hot Shot Brokers for service needs for urgent delivery within the automotive and construction sectors. With our extensive service offerings, vast experience and proven systems, there isn't a hot shot load that we can't handle. Best of all we're working daily in your industry and only handle hot shot trucking.
We bring you benefits with every contract due to our unique capabilities that result from our network of thousands of trained drivers, operating everything from dry vans to straight trucks, tractor trailers and flatbeds. We're fully equipped to deliver wide loads, mega size loads, urgent freight and over-dimensional loads with the speed and dependability to be expected of a leading Truckload Brokerage. In addition our coverage spans the entire nation and Canada, whether your urgent freight is heading 150 miles up the highway or clear across the nation we're ready to help provide your hot shot services.
Truckload Brokerage Services
Specialized Equipment
Dependable Customer Service & Support
Accurate Freight Quotes
Routing and Scheduling
Dedicated Fleet Management
We know that the world of crude oil, natural gas, fracking, oil drilling and refineries present a crucial need for reliable truckload services and here at HotShotTrucking.com we rise to meet these challenges. Need hot shot loads delivered before 8 AM? No problem. Our Dispatch will ensure your Time-Sensitive Freight arrives on-time and keeps you in the loop every step of the way. Never again be left guessing about the status of your hot shot freight – we'll keep you fully informed.
HotShotTrucking.com will pick-up, hold or deliver your Full Truckload freight according to your schedule plus we'll work with you to coordinate deliveries, plan loads, track arrival times and much more.
For a Truckload Brokerage you can partner with and count on, look no further than HotShotTrucking.com. Start today with a quick quote or please call us at (800) 604-2511.