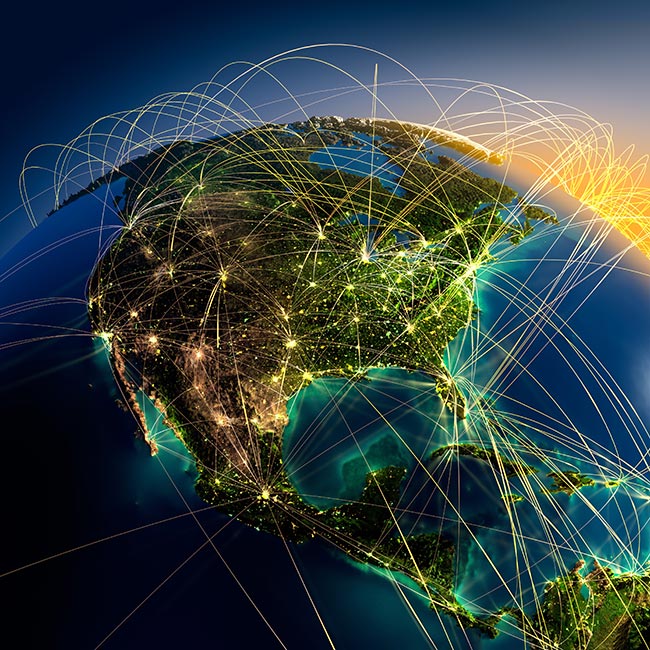 Whether by ground, by air or a combination of the two, we're a same day freight company who KNOWS how to get your goods to their destinations well within your deadline. We can get your freight from "Point A" to "Point B" not in a matter of weeks or even days, but within hours.
A large part of the reason we've been able to do this comes down to the close relationships we've forged over the years not just with cargo airlines, but with skilled drivers who are stationed in key locations across North America. So regardless of how your sudden shipping needs happen to change, or when an unexpected job comes up that needs to be completed sooner rather than later, we're equipped to handle them in the fastest and most efficient ways possible.
Depending on the distance and the deadline, we have what it takes to get your same day freight across the United States, Canada and Mexico on the same day you first pick up the phone and give us a call.
We do this via a number of different ways depending on the situation, including but not limited to ones like:
Shipping by land. This is an ideal solution for both relatively small distances and even more distant deadlines. In a lot of situations, the team at HotShotTrucking.com can successfully complete your delivery entirely by ground. This is possible thanks to the fact that we always have access to a team of drivers who can travel the entire distance in one attempt, taking care along the way to avoid obstacles that may lead to unexpected (and unfortunate) delays.
Shipping by air. When you're talking about more distant deliveries in particular, or those with deadlines that are incredibly rigid, we can charter you a flight to make sure your job is completed on-time and when you need it to. Again, this is possible because we've maintained close relationships with cargo airlines over the years and we always have the right partner in place for the right job at exactly the right time.
A combination of the two. If the starting point of your same day delivery is far away from an airport, we can offer both services to make sure your freight arrives safely and securely. We'll send a team of dedicated truckers to your location to pick up your items and take them to the airport. When the plane lands, another set of truckers will pick up those items a second time and get them where they need to be, no exceptions.
HotShotTrucking.com has more than a decade of experience in offering all three of these service options to businesses just like yours. Between our highly skilled and incredibly passionate team, our use of the best that modern technology has to offer and our vast coverage network, we've never even hesitated when it comes to making the most challenging deliveries on your behalf.
We'll always work closely with you to find out as much about your shipping needs as we can, which allows us to offer you the best possible solution for the given job as quickly as humanly possible.