The importance of on time freight delivery is of course a critical concern for all nationwide trucking companies and even more so for a hot shot trucking company like us. Urgent freight and hot shot loads are vital to ensure that the nations industries can maintain full operational effectiveness and receiving parts and equipment on time can often mean the difference between reaching targets or missing them.
Our industry relies on the provision of superior logistics management so that deadlines are met and drivers are able to nagivate around traffic congestion and keep on schedule. Our growing population and recovering economy each contribute to ever increasing traffic volume on our nation's highways, for hot shot freight transportation, getting caught in avoidable traffic is something we always strive to avoid.
Above is an interactive Google map that we've made featuring this years top ten worst freight congestion locations nationwide, highway intersections that are always busy with remarkable volumes of truck traffic. The top two locations switched places from last year with the Fort Lee, NJ to New York connecting point the George Washington Bridge being the toughest bottleneck of all. Chicago's I-290 & I-90/94 interchange just west of downtown moving down to second place.
Houston holds the questionable distinction of having two of the top ten locations which along with one in Austin means that Texas is the home to three of the top ten worst freight congestion locations in the entire nation. The entire list, in order, is located below;
FORT LEE, NJ: I-95 AT SR 4
CHICAGO, IL: I-290 AT I-90/I-94
ATLANTA, GA: I-285 AT I-85 (NORTH)
CINCINNATI, OH: I-71 AT I-75
HOUSTON, TX: I-45 AT US 59
HOUSTON, TX: I-610 AT US 290
ST. LOUIS, MO: I-70 AT I-64 (WEST)
LOS ANGELES, CA: SR 60 AT SR 57
LOUISVILLE, KY: I-65 AT I-64/I-71
AUSTIN, TX: I-35
The list is compiled by the American Transportation Research Institute (ATRI) and includes the top 100 nationwide trucking congestion points including more data that's well worth a read.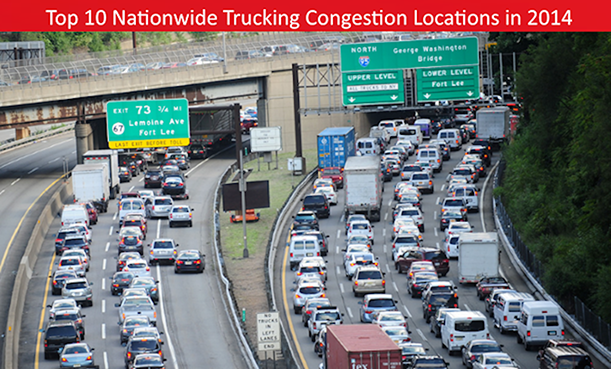 image by kind permission of Getty Images
Are there any locations that you would have expected to see on the list and were surprised to not see? If so please let us know in the comments section, in the meantime try and avoid these ten if you possibly can.