As we enter the final weeks of the year and look ahead to 2015 its very encouraging for the nationwide trucking industry to see the latest quarterly survey that has been conducted by GE Capital that targets middle-market trucking firms. A sense of cautious optimism seems to be the prevailing mood within the national trucking sector.

According to the study 81 percent of the nationwide trucking companies surveyed are either somewhat or very confident about the strength of the economies that their businesses serve. These hopes would seemingly be reinforced by the extended period of increased freight volumes that have been witnessed this year. The new year would definitely be kick started by having a far less severe winter than we saw 12 months ago due to the serious transportation impacts caused at the time.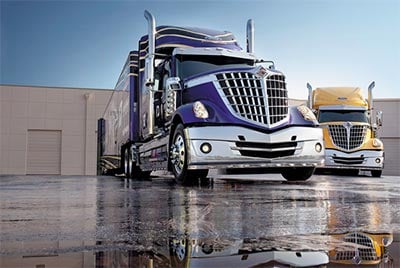 This optimism is demonstrated by the fact that almost half of those surveyed anticipate adding more new equipment in 2015 than they've done during the last 12 months and essentially half of those surveyed are buoyant about the trucking sector expanding next year. The survey also revealed that some 35 percent of trucking firms expect to increase capital expenditure in 2015.
Perhaps the most encouraging data was that 56 percent anticipate overall margin growth next year whereas that figure was resting at only 40 percent earlier this year. Improved cost management, heightened focus on regional freight and an expectant rate increase were also elements revealed within the report.

You can learn much more via the GE Capital study at this link, and our thanks to fleetowner.com for some of the source material for this article.

We're anticipating an extremely busy year ahead in the hot shot trucking sector as emerging energy markets and the need for hot shot loads remains strong.
♦♦♦♦♦♦♦♦♦♦♦♦♦♦♦♦♦♦♦♦♦♦♦♦♦♦♦♦♦♦♦♦♦♦♦♦♦♦♦♦♦♦♦♦♦♦♦♦♦♦♦♦♦♦♦♦♦♦♦
As a part of the Expedited Group of Companies, here at HotShotTrucking.com we fully understand the hot shot trucking industry as we specialize in the field every single day. You can rely on us to consistently provide;
HotShotTrucking.com was founded by Dan Boaz and is completely dedicated to your success and satisfaction. As your dependable and trusted Hot Shot Trucking company, we work daily to maintain unrivaled service and ensure on-time hot shot deliveries backed by our experts each and every time, locally, regionally or nationally.
We look forward to assisting you so please get started by calling 800-713-1000 or please complete our quick quote form for more information and if you have any questions we'll always be glad to help.