Hot Shot Trucking Pennsylvania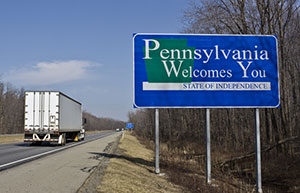 Hot Shot Freight services for Pennsylvania and nationwide.
Pennsylvania is a hot shot trucking hotbed and the definition of where we're best equipped to provide excellence in urgent freight hot shot services. The state boasts a total of seven oil refineries resulting in Pennsylvania now producing approximately 775,000 barrels per day. Coupled with natural gas, fracking and drilling operations included, the state is extremely active within the energy sector and that's the market we know best. These conditions demand versatile and dependable Hot Shot Trucking solutions that only an experienced and proven company can provide with our access to a national fleet of hot shot trucks.
At HotShotTrucking.com, we have the Expedited Freight services, transport options, network and experience to make deliveries of all sizes and distances. Our flexibility allows us to work with you and your schedule to pick-up, hold or deliver Hot Shot Freight as needed.
The preferred Expedited Trucking solution
We know you seek a reliable hot shot trucking partner to manage your freight, we hope you'll read some of our testimonials to see the difference we make.
We fully understand the value and importance to your business in selecting the best hot shot company to deliver your express freight and encourage you to learn about our vast network, resources, and professional approach.
Time Critical Hot Shot Trucking Services in Pennsylvania Include:
Time Definite Delivery
Critical Freight Recovery
Expedited Trucking
Hot Shot Delivery
Hot Shot Courier
Urgent Freight Trucking
We take Hot Shot Trucking in Pennsylvania the extra mile with numerous back-office technology services including routing and scheduling, satellite tracking, and reporting systems. This is the service you should expect from a leading Hot Shot Trucking company, and it's the service we deliver each and every time.
HotShotTrucking.com provides Hot Shot Shipping services for the following Pennsylvania oil refineries (including, but not limited to):
Philadelphia Refinery (Philadelphia Energy Solutions) – Philadelphia, PA
Trainer Refinery (Delta Air Lines) – Trainer, PA
Marcus Hook Refinery (Sunoco) – Marcus Hook, PA
Warren Refinery, United Refining Company – Warren, PA
Bradford Refinery (American Refining Group) – Bradford, PA
Calumet Penreco Karns (Calumet Specialty) – Karns City, PA
Wamsutta Oil Refinery (historical) – McClintocksville, PA
Please do get started today by filling out a quick quote and experience Hot Shot Trucking the way it's supposed to be: fast, reliable and worry-free.