Hot Shot Trucking Arizona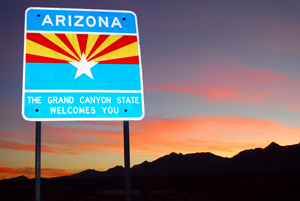 HotShotTrucking.com provides reliable and flexible Hot Shot Delivery solutions both in Arizona and across the entire United States. Our Hot Shot Transportation services are tailored to accommodate the needs of the energy production sector; hauling parts, machinery and equipment for the crude oil, refinery, fracking, drilling and natural gas industries. Our experience and logistics strength sets us apart in an industry where reliability is key. We've become a leader in urgent freight services throughout the country. If you're new to us we encourage you to read testimonials from our customers to see the dedication and professionalism we bring to all of your hotshot trucking loads.
We recognize the need for versatile Hot Shot Freight services in Arizona, with the Grand Canyon State producing approximately 150,000 barrels per day via a single oil refinery in Yuma; as well as numerous other operations across the state. We understand there a number of Hot Shot Companies to choose from, but you can be confident that with Hot Shot Trucking you've made the ideal choice.
Ground Expedite & Hot Shot Delivery Services in Arizona Include:
Expedited Trucking
Local & Regional Delivery
Routing and Scheduling
Time Critical Shipping
Local & Regional Truckload
At HotShotTrucking.com, we operate according to your schedule and demands. Our dispatch will make sure your hot shot freight arrives or is picked-up on-time, every time, while providing 24/7 customer support and access to our satellite tracking system.
HotShotTrucking.com provides Hot Shot Delivery services for the following Arizona oil refineries (including, but not limited to):
Arizona Clean Fuels Yuma Refinery (Arizona Clean Fuels) – Yuma, AZ
Find out about our reliable Hot Shot Trucking services in Arizona how it can benefit your business. Get started by getting a quote from HotShotTrucking.com today.