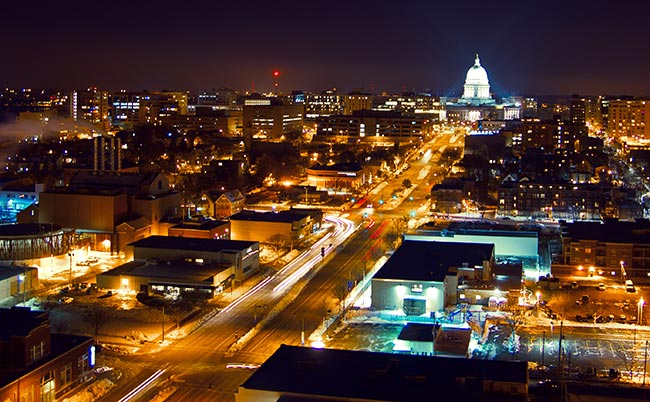 For Madison to keep growing and Wisconsin to keep attracting more industry, local companies must have easy access to the supplies they need for their daily operations. That means not just planning efficient shipping routes but also maintaining a backup plan for when those routes don't work out. HotShotTrucking.com serves as that backup. As a hot shot trucking Madison broker with a longstanding connection to Southern Wisconsin, we know exactly what it takes to keep the city supplied during even the worst of times. Our affiliated trucks, drivers, and expert planners stand by, ready to bring you your supplies the moment your carrier can't get the job done. With the assistance of HotShotTrucking.com, Madison never needs to worry about staying stocked, secure, and situated for continued production.
Madison has grown at a rapid pace in recent years, expanding from a population of roughly 200,000 at the time of the 2000 Census to nearly 260,000 today. When cities grow that fast, local infrastructure often has trouble keeping up. Madison's roads are too small and too few to accommodate the influx of suppliers that has arisen to meet the city's growing demand. The result is that many carriers find themselves caught in traffic jams or otherwise unable to get into the city. When this happens, Madison businesses often have to stall production, costing them thousands of dollars and putting their very survival in jeopardy.
HotShotTrucking.com rescues you from this jeopardy. A committed hot shot trucking Madison broker with vast resources and extensive expertise, we serve Madison proper as well as neighboring towns like Beloit, Janesville, Fitchburg, Portage, and Sun Prairie. We're able to supply all these towns so effectively because of our detailed local knowledge. We know local businesses well and can recall their supply needs with ease. This means that when we receive an order from a Madison area business, we'll know where that order needs to come from and which roads are best to carry it like the back of our own hands. We can thus spring into action quickly, crafting an airtight plan to deliver your items and put an end to your logistics problems.