HotShotTrucking.com confronts this chaos and promptly restores order. An emergency freight expert with a long history in Santa Clara and the rest of the Bay Area, we're prepared for any obstacle that might stand in your company's path. We'll coordinate a new shipment the moment you have a problem and complete your delivery in less than 24 hours.
Part of the reason HotShotTrucking.com can respond so quickly is because we have trucks and personnel in so many places. Our network of affiliated vehicles and drivers spans the whole of North America, including major metro areas in the US, Mexico, and Canada. When you request a delivery and tell us the location of your cargo, we will almost certainly be able to send a truck that's no more than two hours away from that location. This means the journey our to your starting point will be only a small fraction of the trip, rather than half the driving time as it is on ordinary deliveries. Not only does that reduce delivery times precipitously, but it also allows our affiliated trucks to easily take over for your standard carrier, no matter how circuitous or remote a path they take.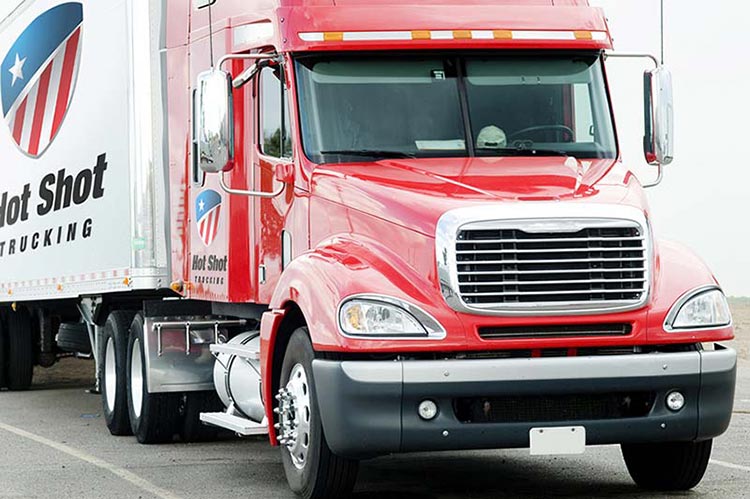 Another way we hasten the trip to Palo Alto is by tracking our trucks along their delivery routes. This not only lets us make sure they follow the plan we provided, but also gives us a chance to look for obstacles that could complicate that plan. While our trucks are on their way, we'll look to the road ahead to see if any part of it gets closed for repairs, backed up with traffic, iced over, or otherwise impassable. Should we see one of these problems, we'll let the driver know immediately and inform them of alternate routes that they can switch to. Thus, even when unexpected sources of delay arise, we're almost always able to avoid them and keep your delivery on schedule.
Besides having a massive network of trucks, we also have a dedicated strategy for assigning those trucks:
When we allocate a truck to your order, we make sure that truck isn't carrying anything else and doesn't pick up anyone else's items along the way.
The result is that the truck and its driver is focused entirely on your specific needs, and can make sure those needs are met without getting distracted by other clients.
The two switch off at equitable intervals, allowing them to keep the truck moving without sacrificing sleep.
This arrangement also means that we can plan the speediest and most reliable delivery between your starting point and destination instead of having to take a circuitous route with multiple destinations.
In an emergency, the last thing you want to worry about is a logistics company that's not fully focused on you; with us, you'll never have to worry about that.
In staying focused on you, HotShotTrucking.com makes sure to develop a delivery plan that best fits your unique needs. This means that when we plot out our route to your Santa Clara destination, we go beyond merely comparing road length and speed limits. We also look up data on traffic patterns, consult weather forecasts to see if storms are likely, and research road conditions to determine the risk of potholes and closures. By taking such a holistic approach to route planning, we minimize the risk of some unexpected obstacle arising and blocking your delivery. You'll thus get your items quickly no matter what problems might arise along the way.
To make these plans truly airtight, HotShotTrucking.com follows up on them throughout the delivery process. Thanks to advanced tracking technology, we're able to keep an eye on our affiliated trucks every mile of the way. Our coordination team then looks ahead to the rest of the route, consulting traffic and weather reports all the way. The moment we see an unexpected obstacle, we'll find an alternate path, contact the driver, and steer them onto that path while there's still time. Thus, even the truly unexpected won't block your order, and you'll be able to get the items you need no matter what.